Storage Sheds for Garbage Bins, Recycling Bins & Green Bins
We're a Toronto based designer and builder of compact storage sheds for garbage bins, recycling bins and green bins. We create sheds that will enhance your outdoor space while protecting your waste bins from the menace of raccoons. Redwood Sheds offers several different models: a triple bin shed which holds all three bins; a double bin shed which holds two bins; a single bin shed for large garbage bins or recycling bins; and a single bin shed designed to accommodate the new green bin. All sheds are built in our Toronto shop, and are delivered and installed fully assembled.
Triple Bin Shed
Our triple bin sheds are designed to hold all three bins - garbage, recycling and the new green bin. They're built using top-grade materials - cedar shingle roofing, factory-stained pine siding, cedar trim, and a pressure-treated deck to resist rot. We import our door latches from the United States, and they're even lockable.
Double Bin Shed
Our double bin sheds are designed to hold two large bins. The roof of this shed has a flat deck, allowing you to use it for a variety of purposes - you can cover it in potted plants or simply use it as a convenient place to store garden implements, fertilizer, road salt, etc. We've designed this shed without a floor which makes rolling the bins in and out very easy.
Single Bin Shed & Green Bin Shed
Our single bin sheds and green bin sheds are similarly built. We use cedar shingle roofing, pine plywood siding, cedar trim, and a pressure-treated deck to resist rot. The front and tops of both these sheds open to allow for easy access to your bins. The specially imported latches are also lockable.
Please look through our site, and feel free to contact us with any questions or concerns.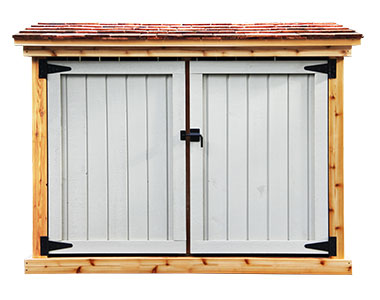 Newly Redesigned Bike Shed!
We've redesigned our popular bike shed. It's now slightly smaller, but can hold up to three bikes (depending on the size of your bikes). As with our previous model, it contains a locking bracket inside, and now a set of hooks for helmets amd locks. See the bike shed photo gallery for more details.