ORDERING
Payment
If you are ready to order now, you can pay beneath by PayPal/Credit Card. If you would prefer to pay a deposit now and the remainder upon delivery of the shed, please contact us to make arrangements.
Delivery
Delivery time varies by season, but delivery can be expected between four and six weeks. Our standard delivery/installation fee within the GTA is between $75 and $150 depending upon the product (exact delivery prices are listed beneath). When your shed is built, we will contact you to arrange a delivery time, and to discuss where you would like to place it. Please choose a location for your shed that is level and stable. A concrete pad, stable asphalt or properly-installed paving stone are ideal. We can install on grass or dirt by resting the shed's corners on patio stones, but if the ground heaves (water in the soil freezes and expands, lifting up a corner of the shed), you may have to re-level the shed in the Spring which typically is not too difficult a task.
Additionally, please ensure that the location you choose is large enough to accommodate the shed (all shed dimensions are listed on the sheds page), and that access to your chosen location is also wide enough to accommodate the shed. (An example being a shed installed in a backyard needing enough room to fit between your house and the adjacent house.) If you have any questions or concerns whatsoever, please contact us.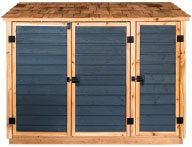 Triple Bin Shed — $1,575
(Plus $150 delivery/installation fee)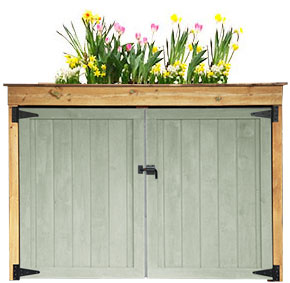 Triple Bin Shed with Planter Top — $1,175
(Plus $150 delivery/installation fee)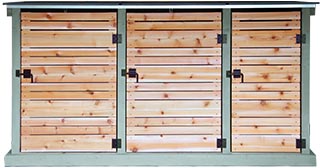 XL Triple Bin Shed — $1,675
(Plus $150 delivery/installation fee)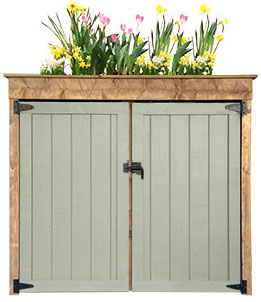 Double Bin Shed — $975
(Plus $150 delivery/installation fee)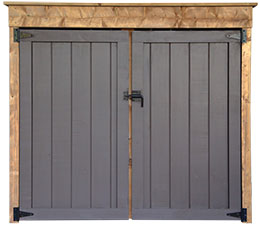 XL Double Bin Shed — $1,075
(Plus $150 delivery/installation fee)

Single Bin Shed — $695
(Plus $75 delivery/installation fee)

Green Bin / Medium Bin Shed — $595
(Plus $75 delivery/installation fee)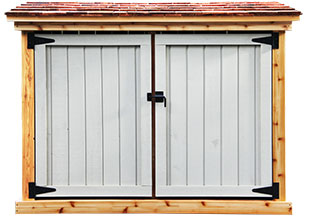 Bike Shed — $1,575
(Plus $150 delivery/installation fee)
Outdoor Storage Chest — $695
(Plus $75 delivery/installation fee)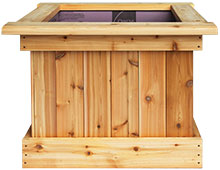 Tree Planter — $395
(Plus $50 delivery fee)